The Y is more than a fitness center, a place to swim, or somewhere to play basketball. The Y is a community of people of all ages, abilities, and incomes who come together to live healthier. The Y provides programs and services that transform lives.
The moment you decide to become a member of the Y you are already on your way to making a profound difference in your life and in the lives of others. By becoming a member, participating as a volunteer, or contributing financially as a donor, you are having an impact on your neighbor by way of our many mission-driven programs.
Your membership is a monthly contribution to your overall health and wellness; it is a long-term engagement that offers you a unique opportunity to find community, connect with your neighbors, and support a cause you can believe in.
Your membership grants you access to your home branch location in Springfield, Ridley, or Lansdowne. Each has unique features, classes, and programs. A Y membership includes:
No Joining Fees
We do not charge a joining fee because we believe our services (not a contract) will keep you around.
CYEDC Branch Reciprocity
CYEDC Branch Reciprocity will allow you to visit any CYEDC Branch (Lansdowne, Ridley, Springfield). Members are expected to purchase a membership at the branch they intend to use most of the time. Periodically we will check attendance and we reserve the right to transfer a membership if a member violates the policy. The Y will notify the member in advance of the transfer. Please visit your home YMCA for more information about this policy.
Satisfaction Guaranteed
We want you to be 100% satisfied with your Y experience. If your experience does not meet your expectations, please let us know immediately – we will do everything we can to meet your expectations.
Free Child Watch (Babysitting)
Our Child Watch (Babysitting) service is operating on a limited basis. Please check your home branch for more specific details.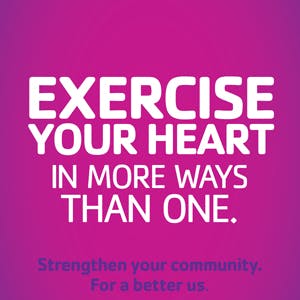 Free Equipment Orientation
We believe knowledge is power. Our staff will help you have access to a myriad of fitness amenities, you'll also be guided by our staff who will help you feel empowered, supported, and successful. Our staff will show you how to properly use all the equipment in the Wellness Center.
Free Group Exercise Classes
Feel the energy in your choice of hundreds of FREE group exercise classes each week. From Advanced Step to Zumba, we have classes for all ages and ability levels to help you reach your goals and make new friends while having a blast!
Discounts and Early Registration Access
You can take advantage of valuable discounts, early registration windows, and special access opportunities across all of our programs including athletics, swim team, childcare, and day camp.
Programs For All Ages
With programs like yoga, active senior exercise classes, and everything in between, the Y offers a lifetime of activities for the entire family to enjoy.
Come in for a Tour
Stop by any time for a tour. You will need to present a photo-id.
Equal Access For All Assistance Program
In these uncertain times, we make assistance available to you and your family. We don't want anyone to be turned away and this program will help you and your family be a part of the Y. Assistance is provided based on household income and expenses. Complete the Assistance Application and/or Camp Assistance Application online today. All requests are confidential. This funding is made possible due to the generosity of people who contribute to our Annual Support Campaign. You can help the Y serve the community by designating your United Way gift directly to our Donor Code #08320.
To show how much we value our community, we collectively support one another through paid memberships. A portion of every paid membership serves to sponsor people from all parts of our community, giving them access to YMCA membership that they otherwise would not be able to afford. Because of this subsidy, everyone in our community may receive the incredible advantage of joining the Y.
Nationwide Y Membership
We want you to reach your health and wellness goals wherever you live, work or travel. That's why your membership is accepted Ys across the United States and Puerto Rico. Be sure to bring a photo ID and sign a waiver at each new Y. There are a few simple rules to keep in mind:
Nationwide Membership is valid for active, full facility YMCA members
Each month, MOST of your visits must be made to your home YMCA (the local association that collects your membership dues.) Because of that, your membership must be placed on hold if you are going to be traveling for more than 28 days and visiting other Ys.
In addition, college students will need to join a Y where they will be making most of their visits.
Nationwide member visitors MUST show a valid YMCA membership card and photo ID as well as provide basic membership data.
Nationwide members under the age of 18 must be accompanied by their eligible Nationwide membership parent.
Program-only participants and special memberships are not eligible for Nationwide Membership.
Nationwide members will need to sign a universal liability waiver and privacy policy.
Guests/visitors are not permitted.
Child Watch and program participation is at the discretion of the facility you are visiting. Check with the Y for their policy.
All Ys reserve the right to restrict or revoke these privileges.
Due to capacity limitations facility usage may be limited or restricted based on the our ability to meet the needs of the Community YMCA members.

Open/Recreational Swim Sessions at the Lansdowne and Ridley branches are limited to Community YMCA members only.
Open/Reservation Basketball Sessions at the Ridley and Springfield branches are limited to Community YMCA members only.
Open Pickleball sessions at the Springfield branch are limited to Community YMCA members only.
Tennis Court Reservations are limited to Community YMCA members only.

For capacity and safety reasons, we can only welcome Nationwide members to our branches Monday-Friday 5am-5pm.

Nationwide members playing Tennis or Pickleball at the Springfield branch are always welcome when playing with a Community YMCA members.

Registered sex offenders are prohibited from participating
Our Nationwide Y Member policy is subject to change without notice.
Forms
Member Relations Directors